Massage Therapy at West-Land Clinic of Chiropractic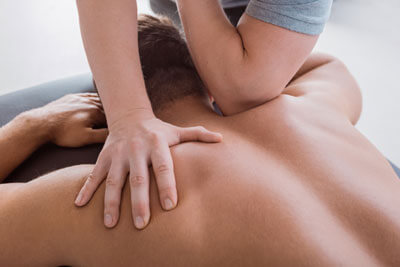 At West-Land Clinic of Chiropractic, our team is proud to offer a variety of modalities outside of chiropractic adjustments that help bring patients the best healing possible. Massage therapy is one of those techniques, and in-office certified Massage Therapist  works with patients of all walks of life to craft specific, focused and relaxing experiences.
Tailored Sessions for All Patients
Whether you're seeking a one-hour massage that focuses on the entire body or would like a shorter session dedicated to a specific area, we've got you covered. Our one-hour massage is $60 and includes a variety of additional options, including the use of CBD oils for heightened relaxation and cupping techniques.
Many patients have visited us for massage to help overcome symptoms including:
Back and neck pain
Tension
Stress
Insomnia
Joint discomfort
Circulation problems
And more
For more pricing information, please contact our practice.
Frequently Asked Questions
We believe that just about everyone can benefit from massage therapy. Perhaps you're looking to reduce stress in your life or alleviate aches and pains, or you just want to relax after a long day at work. Whatever your goals, massage may benefit you.
What should I expect during my initial massage session?
We will have you complete an intake form that will outline your health history. Our massage therapist will review and go over anything specific with you regarding your overall wellbeing and purpose for seeking therapeutic massage.
An effective massage, even a deep tissue massage, should never be painful. Any discomfort can indicate that the muscle is injured or inflamed; if it is, pressure can be adjusted. In addition, pain can cause you to tighten up and counteract the relaxing effects of the massage. It's important to note that the most effective massage works with your body's natural response, not against it.
Schedule Your Visit
We'd love to welcome you into our care. If you're interested in booking a massage or speaking with us about how massage may help you, contact our practice today to learn more.
CONTACT US »
---
Massage Therapy Latrobe PA | (724) 532-3077