Meet Dr. Patrick Landry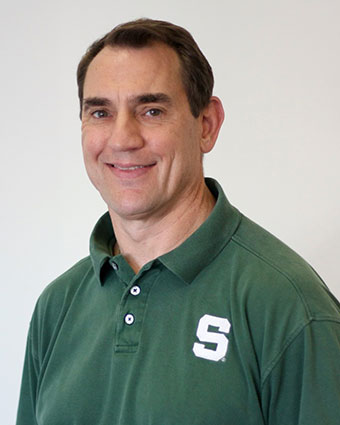 Dr. Patrick Landry enjoys helping people, and regards himself as a caregiver, whether as a doctor or coaching people outside the practice. His chiropractic patients come in with a need; if he can help them, it's very gratifying.
Sometimes helping a patient means referring them to other professionals for care. He's always honest about the limitations of what chiropractic can do.
Athletics and Chiropractic
An athlete from an early age, Dr. Landry developed an interest in health and fitness. His family believed in healthy eating and living an active lifestyle. This gave him the foundation for a lifetime of healthy living.
Dr. Landry suffered several sports injuries during high school. While the pain went away, stiffness in his upper back remained. The problem continued into his college years, when he was introduced to chiropractic care. After several adjustments, the stiffness went away, and he was able to resume his activities.
An Education in Chiropractic
Dr. Landry attended Michigan State University, majoring in Physiology. He did well in Freshman Biology, which led him to consider a career in the health sciences.
His positive experience with chiropractic helped him decide on a career as a chiropractor. After receiving his degree from Michigan State, he enrolled in the prestigious Palmer College of Chiropractic. He graduated in June 1992 with his Doctor of Chiropractic.
Practicing What He Preaches
Dr. Landry didn't know anything about chiropractic, but was drawn to it because of his athletic interests. He always tries to take care of his health with diet and exercise, and model the same for his patients.
This led him to open a CrossFit gym, which is perfect for him. Teaching people how to move better helps optimize their health. Most people don't move enough; he encourages them to challenge their bodies to improve strength and flexibility.
Dr. Landry teaches his patients that being active will improve their treatment results. Chiropractic is passive therapy; patients need to be active to prevent the loss of their physical abilities.
EXPLORE OUR SERVICES »
Away From the Practice
When he's not in the office, Dr. Landry enjoys photography, fitness, and spending time with his wife and five children.
Let's Work Together!
Dr. Landry will help you live the life you've dreamed of. Contact our office today to make an appointment.
---
Dr. Patrick Landry | (724) 532-3077